About the World Transition Project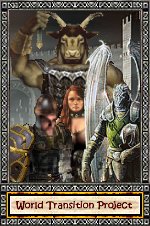 The primary goal of the World Transition Project is to try to bring the BG modding community closer together. Currently, modding is mostly restricted to the game world which has been provided for us, and a plotline which many are tired of being restricted to. In addition to the mod we're developing, we also plan to bring resources (assets) to the rest of the community, and make them available to everyone. For our project to succeed there must be a greater level of cooperation and willingness to work together within the community. The material we provide openly to the community is with the hope that it will help to break down the old views of modding: in which information is hoarded, with-held, and too often lost to the community.
The Mod which we are currently developing is not intended to ever be "complete" as other projects are. It is, instead, intended as a new world/framework in which mod makers can help be a part of building a whole new world from the ground up. The world Will indeed have many quests, plots and storyline already built into it, however will allow enough freedom to add small and large quests, as well as the ability to add full TC (Total Conversion) sized modules into the new world of Mytera. Each region of Myera will have it's own administration, which will help maintain consistency throughout the varied projects under development today, as well as in the future. It is an enormous world with nearly infinite new possibilities.
Instead of using conventional world-maps we are using "Walking Maps" in which the characters will "walk" on the worldmap from location to location. This allows for greater freedom with the maps. This also allows us to expand upon Mytera over time. Adding regions beyond the Pangean continent currently being worked on, as well as having full size subterranean map levels. These worldmaps can be constructed and modified easily using map editing software which has been stripped out of the game "Age of Wonders".
For the latest developments on the World Transition Project see the WTP forum. If you are interested in helping us create a new world on which the community can build on then contact the World Transition Project team through the forum or by email.